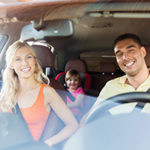 With Sapphire you can stay connected during summer travel, but where to go is a big decision. If you are returning from deployment overseas, a family adventure with a summer road trip can help you unwind and create amazing memories. Back in the USA, July is one of the most popular times for a family vacation. The weather is at its best, days are long and there are festivals, parades and contests in nearly every community.
Here are a few bucket list trips:
Route 66
Get your kicks on Route 66!  This iconic roadway stretches over 2,500 miles from Chicago to Los Angeles. Famous for its quirky postcard attractions like the Cadillac Ranch in Texas, the World's Largest Catsup Bottle in Oklahoma, and the Cabazon Dinosaurs museum in California, there is sure to be something exciting for everyone. You can even do a fun family photo scavenger hunt with stops at souvenir shops, giant statues of cowboys, longhorns, covered wagons, tepees, and a huge sculpture of Abe Lincoln on a wagon in his hometown of Springfield, Illinois. Share the pics with friends and family when you stay connected during summer travel with Sapphire.
30A, Florida
This scenic highway hugs Florida's panhandle along South Walton County. It features white sand beaches, blue-green gulf waters, and warm salty ocean air. There are dozens of picturesque beach towns along this route, but the town of Seaside is a must-see. The relaxed and charming beach town provided the picturesque setting for the 1998 movie "The Truman Show." Visitors and locals alike, enjoy summer concerts, farmers markets and an assortment of local artisans and shops to browse. This is definitely a spot for breathtaking photos to share with friends and family!
Blue Ridge Parkway
If you're more of a woodsy group, the Blue Ridge Parkway is the way to go. This 469-mile drive connects Shenandoah in Virginia to the Great Smoky Mountains in North Carolina. To travel the parkway, start in Front Royal in Virginia. Travel along Skyline Drive to Luray Caverns. Then head south to the Natural Bridge and into North Carolina. You must stop in Asheville and tour the famous Biltmore estate or take a behind-the-scenes tour of "The Hunger Games" filming sites.
Take the Internet with You
Wherever your travels may take you, stay connected with Sapphire mobile hotspot. Portable hotspots are a great way to connect multiple devices without eating into your wireless data plan or accruing expensive roaming charges.  Shop US and Canada data plans here.