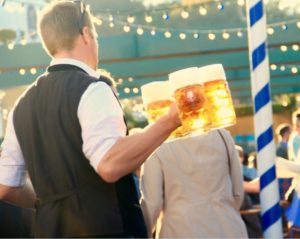 Many people have a fall trip to Germany on their bucket list to celebrate Oktoberfest.   This famous festival has grown and now boasts more than 7 million attendees each year.  If you're traveling to Munich to partake in the 16 days of festivities, make sure you stay connected with wi-fi in Germany at your fingertips!
Recognized as the world's largest folk festival, this 209-year-old beer fest actually starts late September and runs until the first Sunday of October. Highlights of the festival include a parade and the official beer barrel tapping. If you want to recreate your own German folk dancing scene from National Lampoon's European Vacation, you're in luck!  The Oide Wiesn on the southern section of the festival area is where you can witness all the lederhosen and folk dancing your heart desires.
Over the course of 16 days, revelers will consume 7.5 million liters of beer and over 140,000 pairs of pork sausages.   Read all about Oktoberfest here.
Oktoberfest Trivia
To help you brush up on some Oktoberfest trivia, we've gathered some fun facts for you:
The only beer served during the festival is brewed within the city limits of Munich
The festival has been cancelled a total of 24 times in over 200 years
Nobody raises their mug until the Mayor says so
The hairier the hat, the wealthier the wearer
One mug of beer at Oktoberfest is equivalent to 8 shots of Schnapps
Albert Einstein once worked as an electrician and helped set up one of the beer tents in 1896
Oktoberfest has its very own pop-up post office with around 130,000 postcards and gifts sent every year
Beat the Crowds
With over 14 huge beer tents, there will be plenty of sites and sounds to take in.  You will definitely want to take photos and videos of your experience and share them with those far and wide.  To make your experience even more engaging, you can get the official Oktoberfest App with news updates, the site map, events, tips, and a "Friend Finder." You can mark your location at the fest and post photos and comments to your friends. With millions of people trying to get online, beat the crowds and stay connected. You can make sure you have secure access to wi-fi with a personal hotspot and plenty of data to carry you through your stay. Visit our website to learn more about the Sapphire devices and to shop plans so you can have wi-fi in Germany at your fingertips.