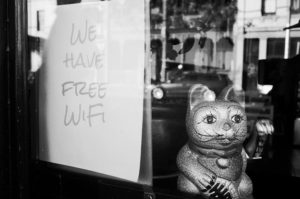 When traveling for business, a steady, secure internet connection is a must. These days, that's simply a fact of doing business. Every serious business traveler seriously considers business WiFi. Since you're not in your office with your company's digital protections, hopping online can be a bit more complicated. Keep these tips in mind for better internet security when you're traveling for business. 
Start Simple: Lock Everything
If you don't already use a password or PIN code to secure your smartphone, now's the time to start. And please, do not use the easily guessed 1-2-3-4! While you're at it, make sure you have some password protection on all of your electronic devices. The security system isn't an impenetrable security measure, but password protection is a high first line of defense. 
Skip the Free Cafe Internet, Get Business WiFi
Generating a secure wireless internet connection can get expensive when you have to rely on an international data plan. Because of that, the allure of free WiFi at a local cafe, your hotel, or anywhere else can be immensely appealing. However, that free WiFi connection is also a security nightmare. Every country has its regulations about free WiFi access, so there is no guarantee about how stringent the security protocols will be. If you do need to connect to a free public WiFi signal, avoid accessing any sensitive or personal data. 
Nix Auto-Connect
Since you don't want to use free WiFi while abroad, it's important to tell your devices that. These days, most smartphones and tablets have an auto-connect option that searches for clear signals. It's a great way to minimize data usage, but it's also a good way to land on a WiFi signal you shouldn't trust. Turning off your auto-connect option will help you avoid those less-secure WiFi signals. 
While you're at it, this is also an excellent time to turn off your Bluetooth connection. It may mean your fitness tracker doesn't work as well, but Bluetooth is also an easy way for hackers to access your devices. 
Update Everything
It's pretty standard for individuals to put off operating system updates on their phones to make sure those updates won't wreck everything. But before you head abroad, it's essential to make sure all of your electronic devices are updated. Most of those updates include security patches. They are designed to keep your OS as protected as possible against digital attacks. 
Connect Securely 
When it comes to international travel, the best thing you can do is to use your own secure signal to connect rather than public WiFi. The Sapphire internet hotspot is a better option for business WiFi needs because it allows you to create a secure network to which you can connect all of your devices. Our secure business WiFi doesn't cost an arm and a leg, either! Simply power on your Sapphire hotspot device, choose your country and data options, and get connected. Learn more and enjoy secure WiFi for business. No matter where your travels take you — get your Sapphire business WiFi device online today!