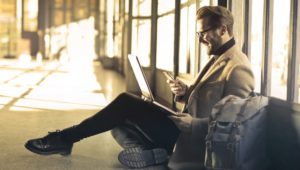 Taking a business trip during Thanksgiving this year? Getting paid to travel the world can seem like a dream. It's easy to forget that international business travel still means actually doing work. While business trips abroad may sound ideal to someone who has never been on one, those of us who have know just how little free time there usually is for sightseeing.
But you don't need to worry that your only sightseeing will happen in taxis to and from your hotel. There is still hope for fitting in fun around the things you're being paid to handle! Here are a few ways you can create a little more time for fun on your next business trip abroad: 
Get Work Done In Transit
Sitting on an airplane for hours is a prime time to get things done. Grab a pair of noise-cancelling headphones to block out the screaming toddler six rows back, pull out your laptop, and get things done. On your way out, review documents, compile data, and whatever else you need to do to prepare for the business side of your trip. Don't forget to save documents and webpages in offline mode so you have everything you can access everything you'll need to get the job done.
Also, remember that you'll have that whole flight back to type up notes, write reports, and compose emails. Just because you may not be able to use a WiFi business hotspot in the air, that doesn't mean you can't get everything ready to send off as soon as you land. The more you can get done in flight, the more time that will free up to squeeze in some sightseeing. 
Plan Your Meals
Everyone has to eat, and even if you'll be holding meetings over meals, you can use that to your advantage. Scope out restaurants that are well-rated, and reserve meals ahead of time. If you're really feeling enterprising, you can even plan meals at restaurants you'll have to pass by major landmarks to get to. And hey, if your company is covering the trip, this is a great way to make the most of your company's expensing offer! 
Take Time to See The Sun
The typical business hours aren't a hard-and-fast rule during business trips. You may work later into the evening or earlier in the morning. The good news is that this varied schedule is often balanced out by spots of free time at odd moments during the day. If networking or other informal events are on the agenda, suggest stepping outside to walk and talk — assuming the weather is nice. Moments like these are a good opportunity to squeeze in a walking tour on your own, or to ask your hosts a bit about their city for a more personal tour.
Extend Your Stay
If your schedule allows, use your business trip as a jumping off point for a bit of vacation. Talk to your HR department about adding a few days to the beginning or end of the trip so you can actually take time to enjoy the sights. You'll likely be expected to pay for your own expenses after the business portion of your trip is done, but this is still a great way to enjoy your time abroad — and save a bit on that international vacation! 
Make Working Easier
When it comes to any international business trip, one of the hardest parts is finding a reliable, secure WiFi signal so you can get work done. The Sapphire business WiFi hotspot helps you stay connected no matter where your travels take you. Simply power on your WiFi business hotspot, choose your country, and enjoy a secure WiFi signal for as many devices as you need to connect. Learn more and grab your Sapphire business WiFi device online today!