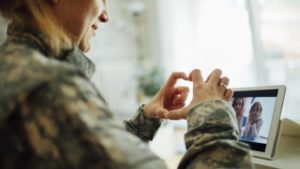 One of the most challenging hardships while being deployed is being separated from family and friends for extended periods.  It's especially hard when it's back-to-school time. Staying connected is now easier than ever. A stream of video chat apps provide that valued face time with those you love most.  In fact, studies on happiness have shown the number and strength of a person's social connections is the most significant predictor of how happy a person will be.  Thanks to apps like FaceTime, Skype, and WhatsApp, all you need is a secure Wi-Fi connection.  These apps allow you to have live video chats even if you're thousands of miles away. Here are some top picks to help you stay connected with video apps.
FaceTime
How to set up FaceTime. Both callers need to be on an Apple iOS device. The video works better over a Wi-Fi connection. FaceTime is available on settings. Just turn it on. Initiate the chat by using the FaceTime app. For more detailed instructions, watch the tutorial. While a phone call is good, having conversations face to face with your kids, spouse, and friends on video is fantastic.
What's up with WhatsApp?
It's a newer video chat app for Android devices with 1.5 billion users in over 180 countries.  The app also offers video messaging, chat, image sharing and more.  Depending on where you are, it might not be available as the app is banned in 12 countries.  These include China, Bangladesh, Iran, North Korea, Syria, UAE, and others. Learn more about this app with this video on YouTube.
Skype
Skype is a popular video chat app. In fact, every day around 3 billion minutes are spent on Skype.  The instructions are similar for Macs, PCs, or Androids, it now even works on new Smart TVs. Skype is free if you and the one you call are on Skype. You can download an app or a desktop version. It's easy to download and use. Watch the video.
Facebook Lite
Facebook Lite is a new Android app that works virtually all over the world, especially in developing countries where data connectivity is hit or miss. Facebook Lite doesn't preload photos the way Facebook does. It downloads low-res images that you can scroll through, then tap if you want to download a high-res version. And when you upload photos, the pics are automatically compressed. The layout is pretty much the same as traditional Facebook too. For more info, click Facebook Lite. To download Facebook Lite, click here.
Tips for Video Chat Success
Schedule regular calls – making calls on the same day or time not only offers consistency, but provides a sense of comfort to loved ones.  Knowing that a video call will always happen at a particular time can increase your sense of connectivity.
The right environment – when having video calls, make sure you're in an environment free from loud or distracting noise and any interruptions.
Have fun – not all video calls have to be serious.  Put on a funny hat or prop to surprise your kiddo, talk in a funny voice or share a special drawing.  You can still create memories from afar.
If you are deployed overseas, don't use your cellular data or you may be hit with expensive international data and roaming charges. Make sure you turn off data roaming on your smartphone to avoid these charges.  The best way to stay connected without a huge bill is by using a portable hotspot.  Sapphire hotspots have 4G LTE speed and use CloudSIM technology. You will never have to pay expensive roaming charges again.
Sapphire offers hundreds of data plans to choose from with money-saving packages for particular regions and countries. No more SIM cards. Explore plans. Compare Sapphire devices.
By Greg Michael