Sapphire Power Global Mobile Wi-Fi Hotspot
$179.00
> Our Sapphire Power is victim of its success and is currently Out of Stock, you can still get our amazing Sapphire 3 though! <<

Stay connected and charged wherever you are with our combination Hotspot & Power Bank
The Sapphire Power Hotspot gives travelers the liberty to explore the world with the security of having a stable Wi-Fi connection and a full battery, anywhere you go. This combination hotspot and power bank include a large-capacity battery and three built-in cables to charge mobile phones, tablets, laptops, and more.
The Sapphire Power mobile Wi-Fi hotspot is a powerful, pocket-sized hotspot that provides you 4G LTE internet speeds in 130+ countries while allowing you to connect up to a total of ten devices. It's a must-have for global travelers and military personnel deployed overseas. By connecting to the strongest cell signal, the device automatically downloads the regional SIM cards from cloud-based servers which eliminate the need to buy local SIM cards in each country you visit. See how it works.
Secure Wi-Fi connection with up to 4G LTE speeds for up to 10 devices
Wi-Fi Coverage in 130+ countries
Universal power source for devices with USB-C, Lightning, or Micro USB Ports
Charges devices using 7,000 mAh battery
Long battery life that lasts up to 28 hours
3GB Global Data included
In a matte black finish
Additional information
| | |
| --- | --- |
| Weight | 0.208 kg |
| Dimensions | 14.3 × 6.9 × 1.6 cm |
| Color | Matte Black |
Sapphire 5G Specifications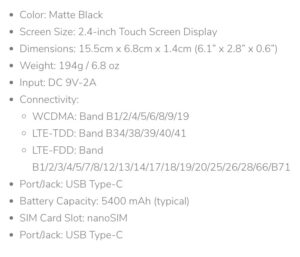 Sapphire Power Specifications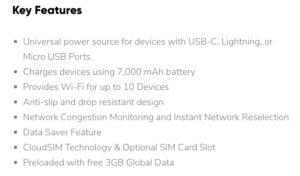 Sapphire 3 Specifications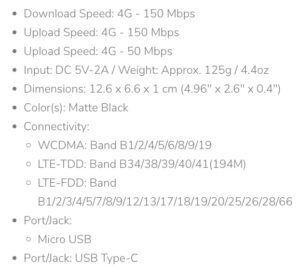 Sapphire 2 Specifications
General:
Orders received:
Before 3 PM CST ships same day (Excluding US Holidays)
After 3 PM CST ships next business day (excluding US Holidays)
Delivering to a P.O. Box? Please select USPS at checkout
Saturday Shipping – Rate Breakdown and Additional Info:
If you want your Sapphire delivered on a Saturday, an extra fee will be applied to your cart for UPS or FedEx delivery.
Saturday delivery also includes an additional surcharge for postage.
How do I get started with Sapphire?
Just turn it on and your Sapphire hotspot device will appear as a private Wi-Fi network on all your devices. Connect, choose a data plan and you're good to go.
How many devices can be connected to a Sapphire hotspot at once?
To help you work more efficiently, Sapphire allows you to connect up to five (5) devices simultaneously for our S2 device, and up to ten (10) devices for our S3, Sapphire Power & Sapphire 5G!
How do I receive my free international data?
Sapphire wants to help you get connected right away. So, we offer all Sapphire 1GB of international data free for S2 devices, 3GB for our Sapphire 3 & Sapphire Power, and 5Gb with the Sapphire 5G! All you must do is activate your device to receive your data.